When Mockingbirds Sing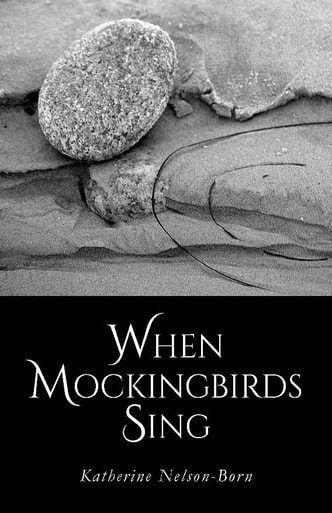 ​Katherine Nelson-Born's
premiere poetry chapbook published in 2016 by
Finishing Line Press
celebrates the imagination's triumph over personal and global tragedies.
When Mockingbirds Sing
takes flight out of the ruins of Katrina and Palmyra and the ravages of poverty and disease, and "sets free from earth's orbit" the ordinary and the extraordinary in words "so clean, so twisted" that we want to be a part of the poets' rocket-ride of "cosmic debris/firing across the universe."
In poems that "sing like the Mockingbird" from a "throaty darkness" illuminating a "new dark edged with sparks," Katherine's wordplay makes us "backwards/fly" and rise like "a snowy egret" into the sun, "wings ablaze," exploding above the ruins we create and yet survive into something "newer than the morning of a day not yet born." Katherine's words "fall/like dogwood petals flowering the ashen earth" and dare us to ask ourselves if art is "worth a life." Read her poems and "bear witness," and if you "feel lost," remember, "the fossils point the way."
Click
HERE
to purchase your copy today!
---
In "

When Mockingbirds Sing

,"

Katherine Nelson-Born

generously leads us on a journey through hurricanes, loss, abandonment, joy, love, death, and dogwood petals. While never shying away from ugliness and despair, these perfectly balanced poems cut through the darkness and bring us to a higher, illuminated ground, a place so many fail to ever see or believe in. This redemptive thread runs throughout the book as she, "a woman who loves the earth in her hands," reclaims what is rightfully hers, "a garden in a world not condemned." Her poems not only remind us that it's "our garden" too, but bravely show us a "way back" with the fierce wisdom of a daughter, sister, and mother clearly aware of her matriarchal line and the power of her words, like "prayer beads you brush with your lips." These words, like great music, never falter, but shine, sing us back to ourselves, and are proof that the "deadly world" is also still "beautiful."

-Jamey Jones

Poet Laureate of Northwest Florida

West Florida Literary Federation

Rating: ***** [5 of 5 Stars!]

Katherine Nelson-Born's premiere poetry chapbook has a bittersweet grounding in her New Orleans roots.
Seasoned with survival of abuse, poverty, hurricanes, breast cancer, and lost loved ones, Katherine's provocative poems present an unflinching vision of life's fragility.
Her artful wordplay brings to light from "throaty darkness" a "sisterhood reaching back" to "ancient stones/once used to weigh down girls" and sings to us "of a time/older than the ruins of Pompeii,/newer than the morning of a day not yet born."
Rating: ***** [5 of 5 Stars!]

On Learning the Origin of Haint Blue
This poem is a sample from Katherine's upcoming book, Bone Geometry.

Thunder trundles across the sky.
I sit under the Haint Blue porch roof,
bruised clouds scudding by.
Across the cosmos, two nebulae
slowly collide, create new suns.

The bright expanse I am resounds
louder than the clash of ancestors in my head.
Singing in tongues, I celebrate those who came
before me, coloring the auburn of my hair,
orange freckles on my nose, the fore-shortened
knuckles of my hands meant for labor,
for digging in the soil, for washing sheets.

My soul sings in blue ink
shaping words, shoving ghosts
through Indigo windows. They resist,
rooted to this earth but yearning to be
more than shadows tinting the porch ceiling.
Spirits crowd the veranda like old shoes
too weathered to be allowed in,
too solid to banish. Worth one more dance.
Veneers of what they once were, their voices thrum,
upending the bowl of my universe.
Together, we uncover the next and the next,
purple hue of space melting like grapes
on my tongue. Taurus, Scorpius, Gemini
I wear on Orion's Belt slung across my hips.

And still I expand, a celestial wind
defying physics, gravity,
the apple falling up, forgiveness
rain falling from my eye,
terrestrial home a cats-eye marble
rolling from my opened palm,
falling into a new constellation
of my making.

The poem starts here.
Links to Sample Poems
"Finding the Way Back" (
Alyss
, Issue Tre, 2016)
https://alysslit.com/2016/03/06/finding-the-way-back/
"Return to Palmyra" (
Alabama Writers Conclave
, Honorable Mention, 2015)
http://alalit.com/pdf/alalitcom2015.pdf (page 94)